Meet the Members of the Operational Board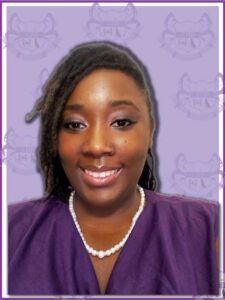 Breana Davenport: Secretary
Breana Davenport is a 31 year old mother of one, living with Lupus for 5 years. She was diagnosed in the Spring of 2015. She is from GA but currently lives in the busy city of Las Vegas. She is the National Secretary of Gamma Pi Rho Lupus Sorority, Inc. Breana lover to go to the movies, dance, write and shoot guns at the range when she has time from her busy schedule. She loves to learn about other cultures through their food and dance. Breana is a lover of God and all His works.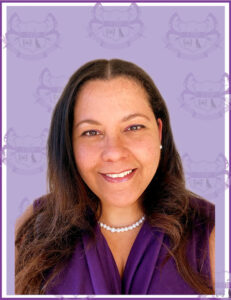 Jeanette J Pizarro: Media & Marketing
Jeanette Pizarro of Puerto Rican heritage was born and raised in Bronx NY. Following in her father's footsteps, she enlisted in the Marine Corps; served during Desert Storm from 1991 -1998 and honorably discharged in 1998 as a Sgt. She then earned her Technical Diploma in Network Engineering & Data Communications, her AAS in Digital Arts & Animation and her BA in Multimedia Arts & Design. She did all of this while working on her Military Sexual Trauma, PTSD, being a single mom and dealing with health issues. Only in 2018, Jeanette was diagnosed with SLE after years of fighting to find what was wrong with her, she learned about the monster lurking inside. Jeanette currently lives in Las Vegas with her soulmate, Retired (USMC) GySgt Darius Harpe, and they share 5 children. Jeanette works for the Dept of the Interior, US Fish & Wildlife Service as an Administrative Officer. She also does work creating websites and logos for small and non-profit businesses.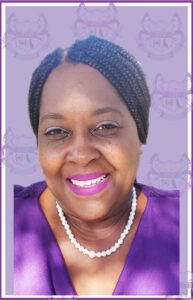 Tonya Johnson: General Counsel/Paraphernalia
Tonya serves as the General Counsel for GPRLS. Tonya was born and raised in Washington, DC. She currently lives in Clinton, MD with her husband. She has worked in the legal/contracts arena for over 20+ years. She received her MBA in 2013 and her BA in Business Management in 2007 from the University of Phoenix. She is a member of the National Contact Management Association (NCMA). Tonya is married with two daughters ages 21 and 28. They also adopted Tonya's two (2) nieces' who are ages 29 and 28. She loves to shop until she drops and attend family gatherings. Before being diagnosed with Systemic Lupus Erythematosus (SLE) in 2015 she was diagnosed with Sjogren's Syndrome in 2012.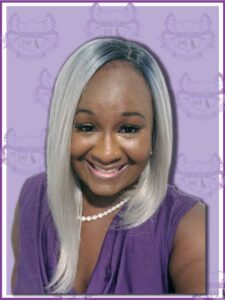 Ti'Ocea Hagins: Intake Coordinator / Marketing
Ti'Ocea serves as the Intake Coordinator and Financial Assistant of Gamma Pi Rho Lupus Sorority, Inc. She is a native of Rochester, New York born and raised, but now resides in Charlotte, NC with her family. She is a mother of a son who has become her life. She graduated from Monroe Community College with an Associates Degree in Criminal Justice and Brockport State College (State University of New York) with a Bachelor's Degree in Criminal Justice and a Minor in Forensic Science. Before being diagnosed with Lupus, she was originally battling another auto-immune disease called Mixed-Connective Tissue Disease and Arthritis since early 2012. She was then diagnosed with Systemic Lupus Erythematosus (SLE) in September, 2018 and has been battling it ever since. She has struggled with her health since the age of 20, when she was first hit with an 18-wheeler that ultimately led to her health being a downhill battle. She has battled everything from Pulmonary Embolisms to having all her colon removed from becoming sick with C-difficile Colitis (C-diff) that became a battle to stay alive. Through all of her obstacles, trials and tribulations, she, by the Grace of God, is still here on this earth and has lived to tell us her story through her book: Surviving the Storms.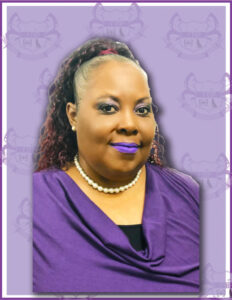 Rosalind Robinson: Co-Chancellor/Mentor
Lupus warrior Rosalind Robinson serves as the Mentor for Gamma Pi Rho Lupus Sorority, Inc. She is a native of Jacksonville, Florida. Although, she has no children of her own, Ms. Robinson is a godmother of two beautiful young women and an aunt to an amazing young man. She received an Associates of Arts degree at Florida Community College of Jacksonville, then pursued a Bachelor of Science degree in Sociology with a minor in Psychology & Music at the University of North Florida. These educational goals led her to receive a lifetime achievement award for serving on the Board at Duval County's Parent Teacher Association (PTSA). Before being diagnosed with Lupus, she was primarily diagnosed with another auto-immune disease called Sarcoidosis for about 3 years. She has been battling Systemic Lupus Erythematosus (SLE Lupus) for 19 years along with other auto-immune diseases. Since being diagnosed with Lupus, she has undergone multiple life-threatening surgeries; however, by the grace of God, she is full of life and doing well. Everyday is a challenge with Lupus, but she manages no matter the circumstance.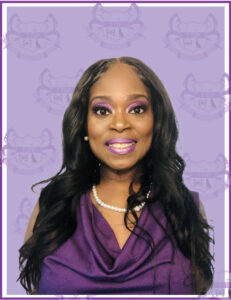 Chandra Heard: Travel & Meeting Coordinator
Chandra serves as the Travel Coordinator for Gamma PI Rho Lupus Sorority, Inc. She is a native resident born in Chicago & raised in Country Club Hills, IL. She commutes back and forth from Chicago to Atlanta to help her only daughter as she battles Sjogren's syndrome, Fibromyalgia & chronic fatigue. After graduating High School in 1990, Chandra proudly served in the U.S Army for 9 years. In 2005 she joined the Order of Eastern Stars & started to become more active in her charity work. Like most other Lupus warriors she's unable to work because of her disabilities. She tries to fulfill her purpose by continuing her education in the medical field via Certified Nursing Assistant, Phlebotomy, Registered Medical Assistant, & now as a Practical Nurse. Chandra has been enduring her diagnosis for over 30 years. Managing Systemic Lupus Erythematous can be challenging from day to day. It has brought on additional illness's that she deals with such as Sjrogen's, Fibromyalgia, Rheumatoid Arthritis & 3rd stage Renal failure. She continues to move forward being an advocate for herself, her daughter & others. Raising awareness & taking on challenges so that she doesn't succumb to Lupus and all that it entails.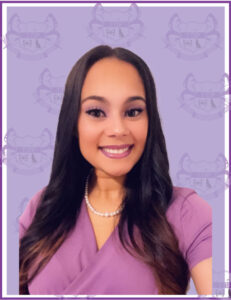 Kristie Riley: Co-Chancellor & Education Chair
Kristi Riley is a resident of Durham, North Carolina. She is a retired military veteran who has completed her associates degree in paralegal studies and is currently working on her Bachelors degree in Legal Studies from American Military University in Charlestown, West Virginia. She has been married to her husband since August 2011 and is a mother to four children. Kristi was diagnosed with (SLE) lupus in November 2016, while serving in the military. She loves to educate and mentor others about her experiences with lupus and how she overcomes the impediments of her illness. Her way of coping with this disease is by keeping herself busy with law school, work, and taking care of her family. Her battle with this disease and other illnesses are continuous, however she fights daily like a true soldier. She does not let it crack her spirit, steal her energy, or break her confidence. She wants others battling the same disease to know they are not alone and that together we can fight this invisible disease. She believes knowledge is power and by being proactive and keeping ourselves informed, we can KNOW lupus and say NO to lupus.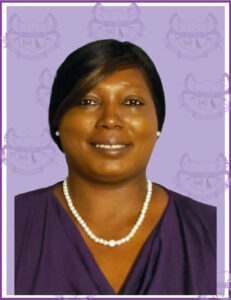 Tasha Elmore-Faulkner : Historian
Tasha is a Qualified Professional who works in the state of North Carolina with individuals with Intellectual Disabilities. She was diagnosed with Lupus in 2016. Tasha has a Bachelors Degree in Criminal Justice and hopes to one day open her own business of working with individuals with Special Needs. In her spare time, she enjoys reading, traveling, meeting new people and encouraging others to be their best self. Tasha has one daughter, Whitley, who is the apple of her eye.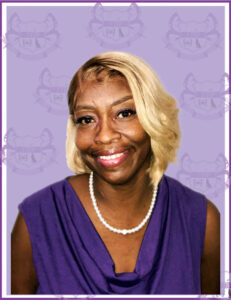 Freida Simmons: Chaplin
Freida was diagnosed with SLE Lupus on September 4, 2004. Her educational background consists of a degree in Medical Assistant and Administration, Licensed Practical Nursing and Child Care Development. She has worked with the handicap and mentally challenged for 15 years, and she was a substitute teacher and a Pre-K teacher. Freida has 3 children and 9 grandchildren. She is very active in her church where she holds many positions, which consists of; president of #2 Usher Board, choir member, Pastor Appreciation Committee, Pastor Aid Ministry, Outreach Ministry, Church Benevolent Ministry, Bereavement Ministry, Youth &Young Adult Praise Dance Ministry, Youth Ministry Counselor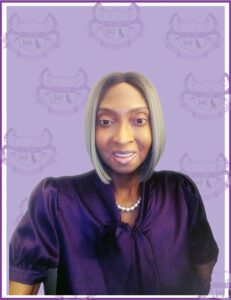 Althea McKenzie: Parliamentarian
Althea is a master of many paths. Her life's journey has been re-routed multiple times due to a chronic illness that has no cure however, it never stopped her from accomplishing any educational achievements. She has a Child Development Associate Credential, a B.A. in Family Life Education and M.A. in Organizational Management. Althea does not have any biological children of her own but has a host of nieces and nephews and 1 fur baby. She was diagnosed with SLE Lupus in March of 1990 with Lupus nephritis. Additional complications as result of her diagnosis include but are not limited to lupus cerebritis, gastroparesis, interstitial lung disease, Sjogren's syndrome as well as additional ongoing issues. Lupus is not easy and Althea works on fortifying her mental and emotional health to assist with her physical fight with Lupus. Althea implements the words of her late track coach Mr. Richard Ford "You got this ham". Althea battles the war with Lupus every day and will not stop in promoting, advocating and educating the public about the severity of lupus.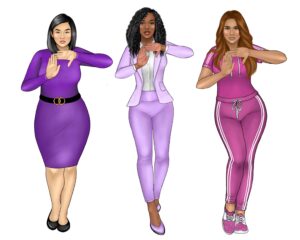 Jamie Jones: Co-Chancellor
Paula Garrett: S.E.A.L. / D.Y.M.E.S.